"A year on and the New Bee binaural headset is still by far our best seller. We've sold multiple 1000's and have had just one return! Very popular not only with our customers but in our office too, so if you're looking for a comfortable, reliable, flexible headset at an incredible price this is the one for you!" 
Caroline Crawford – Sales Team
'What is a good headset to use with MS Teams or Zoom!'
…which is ALWAYS followed up with,  we don't want to spend too much!
Our Recommendation is the Bee H360 Binaural Wired Headset
Top reasons why – Best Value, Good Comfort, Great flexibility and Reduced background noise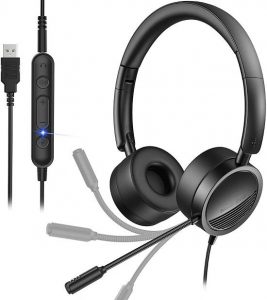 Why Binaural?
If you're regularly on the phone for long periods or are distracted by noises around you, a binaural headset is a good consideration.   It's also a good choice if you watch videos or listen to podcasts and music during the day.
The New Bee H360 binaural headset has a number of good features;
Large comfortable ear pads help to cloak external noise.
Plug-and-play and is recognised by Windows when you connect it as an audible device.
Works well with Teams and other audio-conferencing products.
Has a handy 3.5mm jack (as well as USB) which can be used in a standard headset jack as a microphone and speaker. This works well if you have to do any kind of calling where you might want to use your mobile phone (possibly with an adapter) to make or receive a difficult call.
Although Bluetooth headphones are great for listening to music and for occasional phone calls this over the head dual ear headset with adjustable boom will improve your voice quality and cut down any external noise for people you are ringing.
More comfortable than wearing a pair of in-ear headphones for an extended period of time.
This is presently our best-selling headset,  partly due to its fantastic price.
Prices
From £29.00 + VAT.
To find out more Contact Us