Supporting our local football club!
Three seasons ago I approached the Directors at Becketts to see whether they would be willing to sponsor YMCA United Football Club, a local club that I am one of four player-managers at.
Although there are not so many football fans within the business, this was an opportunity to support a local club that was focused on providing opportunities for young people to be active and participate in sport within a truly locally based club rather than being just about the winning.
Beckett Voice and Data have been involved with several different local organisations and community projects over the years and strive to be a valued "player" within our local communities. We are always open to ways in
which we can support the local area around us and will look to further support other projects and organisations in the future.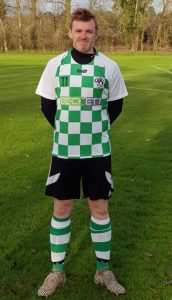 YMCA United FC was setup by Newbury YMCA a Christian organisation that looks to support young people to develop in body, mind and spirit. Please don't think of the Village People song!
YMCA United play in the Thames Valley Church Football League (TVCFL) on Saturday mornings. The league was founded in 1987 and provided a great environment for local churches and Christian organisations in the Thames Valley area to play competitive football whilst aiming to be a welcoming community for all.
Unfortunately, we have only managed to play 7 games so far this season due to Covid-19, although the lack of games has hardly impacted our usual points tally for the season! We very much look forward to getting back out on the pitch together in the near future to enjoy the sense of camaraderie that sport brings.
Luke Gregory – Provisioning Specialist and Centre Back