TEAMS INTEGRATED CONTACT CENTRES
Mike Gooch explains a little more about TEAMS integrated Contact Centre functionality available now.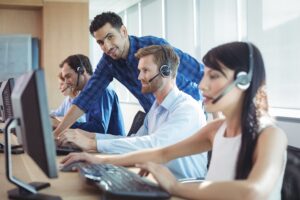 Solutions available  including OmniChannel, Concurrent Routing for Agents and Supervisors. Within your organisation you will have a variety of "Formal" and "Informal" Contact Centre applications.  These can range from a fully blown Contact Centre where Agents and Supervisors Log In to handle calls and in-depth reporting is provided, through to support desks where calls are routed to a variety of users according to availability and time of day with minimal reporting.  As part of the migration to Teams these can be difficult and costly to replicate, and can take a considerable time to procure.  Beckets Teams Enabled SIP Trunks allows you to retain your existing Call Centre infrastructure to provide a managed migration to  a true Cloud Based Omni-Channel Contact Centre.  Our Solutions incorporate reporting across the whole organisation, so you can see when calls are passed from Agents to Back Office users. We can provide Concurrently Licenced OmniChannel Contact Centres to reduce licence costs, including voice, email, social media and WebChat routing to provide a single point of interaction within Teams for all users.