Ofcom
reported:
UK
Telecoms are getting worse for keeping customers on hold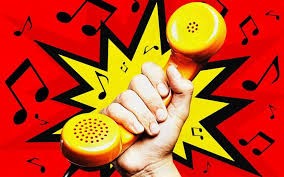 "We've asked telecoms customers what frustrates them most with their providers, and the message is clear: they want to get through to the right person on the phone quickly, and have their complaints dealt with first time,

with

switching becoming simpler, providers that continue to let standards slip should expect customers to show them the door."
said Ian Macrae, Ofcom's Director of Market Intelligence
UK Telecoms operators are notorious for keeping
us on
hold, they are making it even harder for customers to get hold of
them and keeping them on the phone for
longer according to new research from Ofcom.
Results published in the annual customer service report by the regulator last week
,
have shown that people are still keen to speak with a person on the other end of the phone when needing to rectify a problem, but average call waiting times
in both fixed and mobiles are on the
rise
. While some providers have improved their stat
ist
ics from the previous study,
although overall being post pandemic – we would expect this to be greater.
According to Ofcom 77% of mobile customer contacts and 90% of landline and fixed broadband contacts last year prefer to have a
voice
conversation with a representative 
making it the most popular form of communication, in second we have Webchat, but with some distance
at 17% and 6% respectively.
"In 2022, despite the impact of Covid-19 subsiding, mobile customers spent an average of 2min 23s in a queue, up from 2min 15s the previous year," Ofcom said. "Broadband and landline customers waited 2min 37s on average, compared to 2min 16s in 2021."
Whilst this may say a
couple
minutes, it is
in fact worth noting this is an average call waiting time – and there are many people waiting a lot longer, some get through straight away and others slowly lose the will to live and hang up.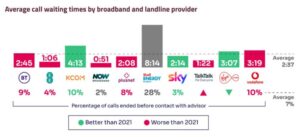 T
he worst
average waiting time for fixed customers came in at a
woeful
8 minutes and 14 seconds,
shockingly,
a staggering 28% of calls were ended before the customer made contact with an advisor; essentially, more than a quarter of those wanting to
talk
by phone
simply
gave up
.


As the Voice market continues to evolve, and
demand for
migrating and porting services
becomes more common
, being able to talk to your suppliers in the way you want is key to ensuring services run effectively and efficiently.
With over 35 years of experience in talking with our customers, we have learned to evolve to meet your requirements –
to find out more about our customer service give us a call on 0118 940 9000
.
One thing is certain, we will certainly answer the call straightaway.